Kukui Nut Oil - The Finest Oil on the Planet!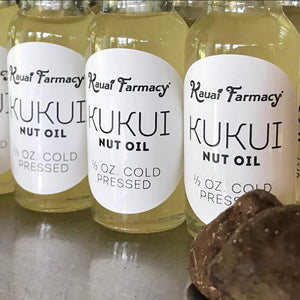 This Kukui Nut Oil is the Finest Oil on the Planet!
Pressing oil from Kukui nuts is an ancient practice of Polynesia.
Kukui nut oil historically has been used: to condition, moisturize, and eliminate fine lines from the skin; to protect the skin of newborn babies; to seal wooded drums; and to light torches (hence it's nickname, the candlenut tree).
We cold-press this precious youth serum raw, in small batches. The ultimate moisturizer, Kukui Nut oil may be the finest oil on the planet for rejuvenation of skin, hair and nails.
The Kukui Nut tree is the Hawai'ian State tree.
Music by: Omashar.com
Kauai-Grown Fine Herb Products