Our Seasonal Small Batch Offering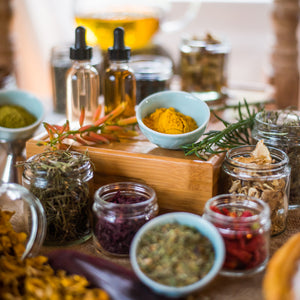 Go with the flow.
This has been an age-old testament to flexibility and willpower when it comes to quenching our fabricated expectations. We are conditioned to believe that everything we eat, the electricity we consume, the material items we purchase, the place that we call home, and even the very relationships we engage in will be ever-lasting. In our most comfortable state, we are tempted to believe that these things will always be readily available as the calendar of life carries on.
As the recent Kauai floods with the onslaught of heavy rains have taught us;
everything is impermanent
; no plant, no home, no material item, no water source, no sanitary system; and no one person can defy Mother Nature's extraordinary power of
transformation
. Cultivating a garden landscape that emulates that of nature is no different. Nature is the ultimate (kumu) teacher in the ever-changing dynamics that take place on the daily: changing weather patterns, soil erosion, invasive species (including us in many parts of the world), life, death, rebirth, pollution, migration, melting glaciers, the Earth's tilt, and the ebb and flow of the ocean tides; these all play a pivotal role in the every-transforming dynamic of our
real-time evolution
. In fact, everything including our planet's continuous rotation down to our most recent inhale and exhaled breath is downright
temporary and precious
. The plants are symbiotic with this transformative
progression
- growing, wilting, decomposing, re-seeding, flowering, hibernating, and blooming with lush vegetation.
At Kauai Farmacy, the gardens are an impeccable signature in the written testament to metamorphosis, transition, evolution and
unpredictable seasonality
. We are her stewards. We tend to the garden's needs and provide her with
love, understanding
and
ultimate gratitude
for her
small-batch medicinal offerings
. Like us, the plants are
particles of energy
: sometimes they are
full of life
, abundant energetically, and very forth giving and generous; and other times the plants require adequate
rest
and space to
strengthen
and
replenish
. Some are annuals, some perennials and others biennials. This
cyclical balance
is captured in the plants and their ability to provide for us as the
seasons
change. The
medicine wheel
developed long ago illustrates clearly that the plants are offering the very
vitamins and minerals
we need to
maintain balance
during the shifting that takes place in the seasons. For example, here on Kauai, the winter (our rainy season) is ripe and abundant with citrus; the perfect
immune-boosting
compliment to the colder, wet, climate.
Our ability to harvest only that which we need, keeping in alignment with the seasons and our kuleana (our responsibility) to make sure we respect and tune in to the plant's needs, prevents over-harvesting and stressing the very life-force that provides us. The mission to maintain a healthy equilibrium for the plants and for our personal wellness, is a delicate and important act of consciousness and consideration. We pass this exercise of patience and understanding on to you. As small-batch medicine-makers, herbalists and human beings, happiness and lovetranslate into our herbal products. If we allow the garden plants to be stressed and depleted, they will fall short on their efficacy and potency; likewise, if the plants are tended to with love and happiness, that high vibration is transferred with the intention to lift us to our higher selves through love and lightness, the ultimate healing components. Even here in the tropics, we have undulating seasons, and with that some of our plants go into a state of hibernation, conservation and rebirth from season to season. Our products are comprised from over seventy different plant varieties that respond independently with each season. Some plants are year-round or perennial providers, others follow life-cycle patterns of reset and rebirth. This is reflected in our seasonal herbal blends like our healing beauty balm where calendula blooms starting in the early spring, then goes dormant as the seasons progress.
As the gardens dictate our herbal offerings, we cannot deny the highly
artisanal nature
in which her
small-batch offerings
are crafted into our
herbal products
. Contrarily, large commercial agriculture/farming companies mono-crop in deficient soil, use heavy machines to harvest, spray chemical fertilizers, add steroidal amendments to the soil, process their plants mechanically in large scalable capacity, add fillers, and store in large containment units for lengths of time; while third parties combine herbs from multiple unknown sources, inventory the blends in over-sized warehouses, then ship and deliver aged, chemically-altered, stale herbal end-products to stores and outlets across the world, where the herbs sit on shelves for indefinite amounts of time, until they are ultimately purchased at pennies on the dollar. This reality has manifested into our culture's limited experience and
trust of small-batch plant medicine.
On the contrary, every herb in every
small-batch
that is creatively rendered here at Kauai Farmacy is touched and tended to by
loving hands
from
seed to final product.
Seeded with
intention,
watered and fed with home-made fertilizers made from the very plants themselves, chanted to by our gardeners, planted in ceremony, hand-harvested, gently cured, thoughtfully prepared, and all packaged and labeled by hand - all within footsteps from the gardens. Our closed-loop gardening system uses plant cuttings to create new
vitamin and mineral-rich
soil through biodiverse compost piles, and uses a brew of our home-made
organic
fertilizer to feed the gardens. Preparing
herbal medicine
in small batches allows us to deliver extraordinary
quality
,
authenticity
, and
freshness
directly
from the source.
We hand-craft and cure our herbs with delicate
precision
taking into account low temperatures in custom, solar-dehydrators, use
eco-friendly
practices from seed, fashioning the herbs for exceptional texture, therapeutic aroma, and
exquisite taste
that serve us
holistically
for
optimal health
. We share this candidly with you to align our acceptance of the nature of the art, the craft and the
seasonality
that comes with making
high-frequency
, small-batch plant medicine. If one of your favorite herbal products is only seasonally provided, and your lifestyle has become dependent on these herbs to provide you
balance
and
health support,
please make sure to store your acorns as the wise squirrels do when the seasons show signs of change. If you are one to go with the flow, we have an array of year-round as well as seasonal herbal choices; and alternating your herbal intake as the seasons suggest, may be the perfect arrangement to create the necessary
sustenance
you need in your life.
Be the first to be informed when our seasonal products are
back in stock
by simply visiting our product pages and clicking on the green "email when available" flag to the side. By entering your email address, we can automatically notify you when the plants are ready to support you once again.
Small batch medicine
is an art. It is our passion to craft the
highest vibration
,
purest
and most
potent herbal products
we can without compromise to our plants, our environment, and our collective health as a whole.
Mahalo Nui Loa from all of us at Kauai Farmacy.