Gardening With a Purpose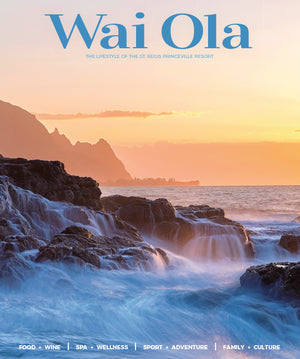 Wai Ola
The Lifestyle of the St. Regis Princeville Resort
2018 issue
Words by
Amelia Fulbright
Morning dew is just beginning to evaporate from the green leaves of the garden. Liberated from condensation, flowers timidly open, petal by petal, and bees line up to pollinate the virgin blossoms. The Shama Thrush bird sings her song. The rooster responds promptly. Then, right on cue, an ancestral chant begins to weave through the garden, along the pathways that will soon carry footsteps and between branches baring precious plant medicine. Each morning, Head Gardener Kerr Jackson begins her work day in the same corner of the Kauai Farmacy garden. Just beyond the
Passionflower
trellised fence, beneath the
Cacao
tree, there lies a humble stone altar. And, upon that altar you will find a new offering each day, placed there by the hands of the one who chants. "Our garden is a very sacred space; a concentrated area of communion with nature, intention, and love," says Jackson. "My morning ritual of chanting to the garden is my way of saying 'Good morning! Thank you! I love you!' I am also asking for the humility to hear and receive the guidance of the plants and trees. I find that if I sing instead of speak, I engage from my heart, not my head. Taking time for this ceremony is a powerful practice for me. It rekindles my connection with all things every single day." Jackson's respect for the plants is shared by all who work at Kauai Farmacy. With a small, family-style operation, the crew is made up of a dozen herbalists, gardeners and specialists. Each and every person, including founders Doug and Genna Wolkon, is a vibrant example of embracing herbal medicine. Naturally, the environment is intimate and the sentiment is intentional. The plants are cared for as family and the garden is tended to like a home. Growing over 70 different medicinal herbs, the Farmacy is a revolutionary example of a true seed-to-cup operation in the herbal medicine world. There are no rows and few rules. Instead, herbs are inter-planted and intuition takes the place of regulation. Within the layers of leaves and intermingling of roots, a delicate network of companionship between plants can be witnessed.
Comfrey
breaks up compacted soil with its deep taproot and makes nitrogen, calcium and potassium more bio-available for surrounding plants. Cuban
Oregano
(and similar Mediterranean herbs) contributes strong volatile oils that deter bugs, pests and pathogens.
Cacao
fortifies the soil with iron.
Cinnamon
and
Allspice
provide shade for their neighbors that appreciate a bit less sun. By allowing the garden to grow "outside the lines", the plants are able to fully express themselves in their own time and, as a result, some of the world's most evolved medicine is created. Harvested only once a year,
Turmeric (Curcuma longa)
is allowed to live out its entire life cycle. As a resulting herbal medicine, it promotes longevity and circulation.
Lilikoi (Passiflora quadrangularis)
, loves to bloom during the full moon and, ironically, is an unrivaled sleep aid known to enhance dreams. What makes herbal remedies remarkable is their action both on the body and our consciousness. Like roots penetrating the soil, herbs interact with our entire being. As circulation increases, blockages dissolve. As sleep is achieved, clarity is bestowed. Awareness is heightened. Intuition is sharpened. Self-control and will are refined. Most importantly, herbs rekindle a connection to our heart. And with these tools transformations begin to unfurl like blossoms beneath the sun.
Customer and gardener photos courtesy of Chasey Chibirka, Tea, powders and garden photos courtesy of Kauai Farmacy After greeting the garden, Jackson meanders along the pathways that lead to the tea house. One or two other crew members may already be harvesting, carefully trimming a Tulsi bush or plucking ripe Coffee fruit into a woven basket. Inside the tea house, an orchestration of careful creation is underway. Herbs within the solar dehydrators are meticulously examined and, if 100% dry, removed and hand-ground to the appropriate size and texture. Teas, powders, salves, tinctures and honey infusions circulate from idea to creation to customer. Odds are, if you purchase a product from Kauai Farmacy either in person at the farm, or from the online store; the herbs therein were gathered from the garden within the week. "What makes our products unique is that they are cured at low temperature and are incredibly fresh," says herbalist Sarah Randa. "Our blends are seasonal. The plants are grown with intention in rich organic soil and harvested at their prime. Then, the herbs blended into delicious products to assist us on our path of a healthy lifestyle." Experience this hidden gem for yourself and get a glimpse into gardening on the Garden Isle. Kauai Farmacy's Tea Lanai is open to the public every week day from 10am to 3pm where guests can enjoy tea and sample products. Those wishing a more immersive experience can book a garden tour through the hotel concierge. Stroll the gardens and taste the tang of vitamin C-rich Cranberry Hibiscus, smell the alluring aroma of Lilikoi (Passionflower) in full bloom, and so much more. Follow the resonance of a chant through gardens dense with sensation and allow the intention steeped within one cup of tea to saturate your soul.