Clary Sage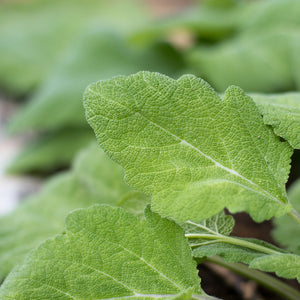 DESCRIPTION
Clary Sage,
Salvia sclarea
An almost stalkless plant growing to 3 feet, Clary Sage has broad oval or heart-shaped leaves, 6-9 inches long, covered with fine silver-white hairs. The flowers are lilac or pale blue, pink or white, in whorls on top of the stems that flower from June to July. Receiving its name from the uncanny nature of evoking clarity, Clary Sage is a whimsical plant that facilitates clearing the vision and clarity of mind. Traditionally used as an eyewash to clear small particles and irritations from the vision, it is now most commonly used as an essential oil applied to the third eye for similar energetic afflictions. With an antispasmodic and estrogen-stimulating action, Clary Sage is an herb used to help balance menstrual disorders and calm PMS symptoms. As it is calming within the endocrine system, it is also calming in nature and contributes proficiently to our Tranquility Tea blend. We utilize the leaf of the plant, protecting the essential oils as they are slowly cured in our solar dehydrators. Harnessing the delicately sweet, candy-like aroma and silver-lining attributes of Clary Sage, we invite its tonic inspirations into our tea!
USES
Calming and stress-relieving
Dispels nervous tension
Soothes digestive problems
Hormone balancer and womb tonic
Alleviates hot flashes
Relieves migraines
qualities
Nervine
Antidepressant
Antiseptic
Antispasmodic
Astringent
Bactericidal
Avoid sage if you are breastfeeding. It is known to decrease milk flow. However if there are breast infections such as mastitis or you are weaning a child, sage will help decrease or stop milk production.