Cuban Oregano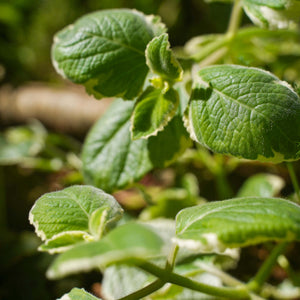 DESCRIPTION
Cuban Oregano, Tropical Oregano, Mexican Mint,
Plectranthus amboinicus
Cuban Oregano is a semi-succulent perennial plant in the mint family, Lamiaceae, with a pungent oregano-like flavor and odor. It grows abundantly and has tender, juice-filled leaves that can be rubbed on the skin to deter mosquitos and pathogens. Similar in profile to Oregano (Zaatar), it carries a pungent aroma and strong medicinal qualities. Revered for its highly antibacterial and antiviral components, Oregano is immune-boosting and a perfect preventative for colds, flu and infections. It has been used throughout history as a tonic to support longevity and also for the rapid cure of acute conditions.
USES
Supports longevity
Boosts immunity
Fights parasites
Good for respiratory problems such as asthma, croup, bronchitis, coughs and flu
Treats skin for conditions of athlete's foot, psoriasis, and fungal infections
Helps repel mosquitos
qualities
Antibacterial
Antiviral
Antiparasitic
Antifungal
Highly antiseptic and antimicrobial
Immune-boosting