Katuk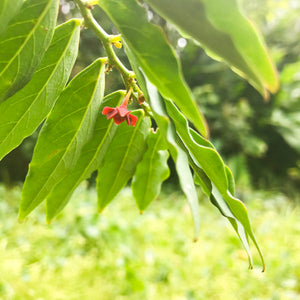 DESCRIPTION
Katuk, Sweet Leaf Bush,
Sauropus androgynus
Katuk is an upright bush with multiple stems, growing three to six feet high. It has dark green, oval-shaped leaves and flat, round, yellow to red flowers that form into edible seed pods. The leaves are eaten raw or cooked, in moderation, and used medicinally around the world. Katuk thrives in the lowland rain forests of the tropics and prefers a hot, humid climate. A nutrient-dense leaf containing vital macro and micronutrients, Katuk is a staple food in many traditional cultures. 50% of the nutritional content in dried Katuk is protein. In addition to providing a source of nutrients, Katuk has traditionally been used to promote lactation, heal wounds, alleviate urinary problems and regulate diabetes. High in chlorophyl and antioxidants, Katuk supports the body in eliminating toxins and free radicals, thus creating healthy circulation, promoting anti-aging and helping to alkalize the body.
USES
Rejuvenates cells
Builds blood
Supports healthy digestion
Helps heal ulcers
Eliminates toxins in the body
Stimulates milk production in lactating women
QUALITIES
Antioxidant
Galactagogue
Impressively high protein content (50%)
High in fiber
High in vitamins A, B & C
High in potassium, calcium, phosphorus, magnesium and iron.