Tea Tree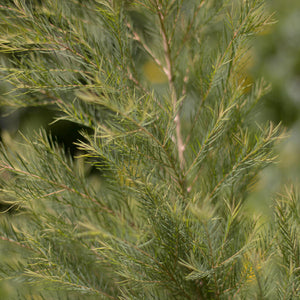 DESCRIPTION
Tea Tree, Melaleuca,
Melaleuca alternifolia
Tea Tree is in the myrtle family and a native tree to New Zealand and southeast Australia. It is a prolific and durable plant that can show up as one of the first species to regenerate on cleared land. It is typically a shrub growing 7–16 ft tall, and a tree up to 50 feet. Tea Tree is evergreen with white or pink flowers. Tea Tree is renowned for its cleansing action. Applied externally, Tea Tree can be used for a myriad of skin afflictions. It's antibacterial, antiviral and anti fungal properties can help with infection, eczema, ringworm, acne, lice, scabies, burns and insect bites. Applying Tea Tree can have a dramatic effect on not only protecting the body from unwanted pathogens, but it can also help fight off anything already within the system.
USES
Boosts immunity
Aids wound healing
Helps fight common cold
Stimulates blood circulation
Stimulates hormone secretion
Treats coughs, bronchitis and other respiratory afflictions
qualities
Cleansing
Cooling
Expectorant
Antioxidant
Antimicrobial
Antibacterial
Antiviral
Antifungal