Anise Hyssop: The "Holy Herb"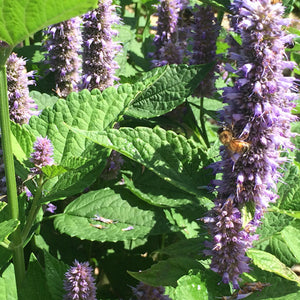 The
Bees
delve in and out, & whizz around the conical cluster of purple flowers filled with sweet nectar on this fully-blooming
HYSSOP
plant. This delicious sweet, minty, licorice-flavored, cough suppressing herb is combined with an array of
Tulsi
,
Pineapple Sage
,
Mint
, and
Tarragon
in our
TULSI MINT Tea
. This tea is excellent brewed hot or can be chilled as an iced tea. Just for fun, freeze the brew into ice pop trays for a delicious nutritious and refreshing treat.
Hyssop
is esteemed for bringing relief to the respiratory; preventing nausea & stomachaches; aiding in digestion; increasing circulation; flushing out toxins; loosening phlegm; relieving pain; fighting infection; & cleansing the mouth & gums.
Hyssop
, is in the mint family and is antioxidant-rich and immune-boosting. The origin of it's name, means "Holy herb" and has been used historically to cleanse evil spirits. In the Spirit of Aloha, The Kauai Farmacy Team xoxoxo