Moringa, Moringa, Moringa and MORE Moringa!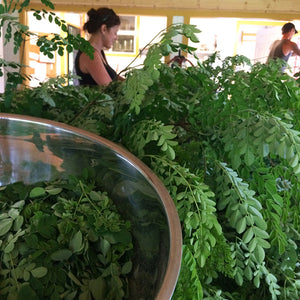 This is what Superfood looks like! Also known as the "Miracle Tree",
Moringa
is packed with
#
protein
#
potassium
#
calcium
#
iron
#
magnesium
and every essential amino acid we need to survive and thrive. The leaves, bark, flowers, fruit, seeds, and root have traditionally been used to make medicine. This plant has also been used throughout the world to combat malnutrition in poverty stricken areas. This fresh
Moringa
harvest will make i
ts way into the Kauai Farmacy solar dehydrators and soon become a nourishing component of our Women's Wellness tea, and our Green Energy Superfood Powder
USES
Antifungal, antidepressant, antiviral, and an anti inflammatory.
Useful with diabetes and regulating blood sugar levels in the process of converting sugar in the body.
Works to support the health of many systems in the body.
Helps stomach problems, constipation, ulcers, intestinal spasms, diarrhea, and fluid retention, allergies, eye protection, cardiovascular, bone and skin health.
Can aid in liver protection.
Used for anemia, joint pain, asthma, cancer, headache, thyroid disorders, and bacterial, fungal, viral, and parasitic infections.
Also used topically for treating infections, wounds, warts, snake bites, athlete's foot, dandruff, and gum disease.
Moringa is a strong immune builder.
---
Also in Kauai Farmacy Blog