Plant Alchemy and Transformation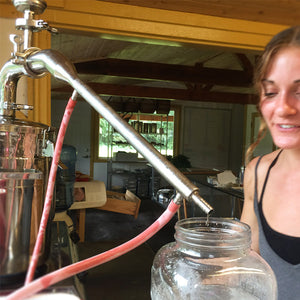 "Angel's Myst." This is a term deemed by organic farmer and distiller Ann Harman used to describe the pleasant aroma just moments before the hydrosol begins to drip from the still. The "myst" from this
Tea Tree Hydrosol
is ultra-potent with a sweet aroma; rejuvenating as it perfumes the tea kitchen air. Partaking in this beautiful process of plant alchemy and transformation begins with the garden morning light; and with the course of the sun, eventually transforms itself into liquid magic to be captured in a glass bottle. The making of hydrosols is a collaboration of our gardeners and herbalists working intimately together; setting intentions, and then with the tree's permission, harvesting that which is willing to be transformed into liquid medicine to be shared with people across the planet. We weigh out the contents, fill the still with water from a local spring, Makaleha, and prepare to capture the cellular water of the plant. Ann Harman writes in her book,
Harvest to Hydrosol
, "When a distillation is not rushed, and the plant is given time to release its treasures, we are rewarded with beautiful, complex waters." These medicinal waters are what we refer to as the hydrosol, a term coined by Jeanne Rose in the early 1990's. Spritzing this medicine on yourself is an excellent way to disinfect, purify & invigorate your body, mind and soul.
Tea Tree (aka Malaleuca)
is a remarkable herb esteemed for its anti-fungal, anti-bacterial, anti-viral, & anti-septic cleansing properties. If you are interested in learning more about this plant distillation process, we encourage you to familiarize yourself with the work of both Ann Harman and Jeanne Rose. Herbal Medicine - Its a lifestyle, The Kauai Farmacy Team xoxoxo Sources: Harman, Ann.
Harvest to Hydrosol
. IAG Botanics LLC Dba BotANNicals, 2015.