Springtime in the Garden, See What's Blooming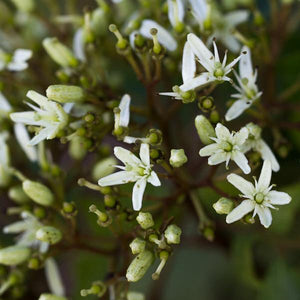 Curry Flowers

Spring Equinox, March 20, 2018
If I am really quiet standing in the garden, I can hear the plants yawning and stretching…waking from their winter sleep. Already everyone is throwing new buds, keiki's (wee ones) are beginning to sprout all around on their own accord, and our weedy friends are joining us in abundance again. It's an exciting time—a time of planting, growth, and new beginnings.


It has been rainier than rainy these last few weeks, but we are still outside and busy. So much to do this time of year… Right now we are all taking turns digging the next home of the
ashwagandha
. We loosen the soil at least 2 feet deep to make sure the roots have plenty of room to spread their wings. It is the root that will be harvested no sooner than a year after we plant. We don't use any machines in the garden, so needless to say, we are all looking pretty buff these days. Lol.
We are finishing up our
turmeric
and
ginger
harvest. The little roots still left in the ground are already beginning to wave their new tender green flags… marking the end of their three month hibernation. The
tulsi
has just been loving all of this rain and spring light! The lush leaves and purple flowers just make me smile!
Besides the daily list that stands inside the toolshed, our foremost focus in the garden is love. We watch over and over again what happens when we really put our focused attention into giving each individual plant and plot of earth that we tend SO MUCH LOVE. The list of miracles that we witness in this practice is too long to list.
Moringa flowers
Love is the most powerful tool we have in and out of the garden. The plants are such examples pure love! xo, Kerr