Stamina, Longevity and Endurance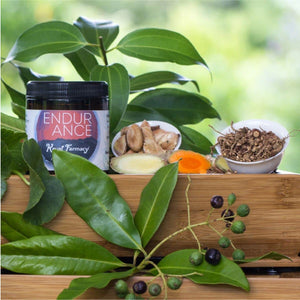 This chai-flavored, protein-powder is Kauai Farmacy's most well-rounded Superfood Spice.
Endurance
is ideal in smoothies, brewed as a tea, eaten pinch by pinch and makes an exquisite culinary companion ingredient in both sweet and savory dishes.
KAUAI FARMACY SMOOTHIE RECIPE: Coconut, Coconut water, Papaya, Apple-banana, Mango and Endurance Powder.
★★★★
I love putting it in my smoothie every morning for a flavorful boost! Need to order two jars next time! ~ Fain Zimmerman
★★★★
I am addicted to this powder!...I actually crave it during the day, and I have a taste any time I am needing a boost... it calms you down and gives you the most wonderful clarity of thought! I absolutely love this stuff! ~ Kathy
★★★★
I love to use this in my raw baking! It adds a great flavor and boosts energy. ~Sarah
Ashwagandha
,
Withania somnifera
This native Indian plant, one of the key ingredients in our
Endurance powder
, also known as "Indian ginseng", is commonly used in Ayurvedic medicine and is named after its ability to give one "the stamina of a stallion".
Ashwagandha
is a fortifying adaptogen, suited to replenish chi and increase the body's overall resistance to stress. It focuses on the adrenals and nervous system, which contributes to balanced hormonal functioning, calm nerves and graceful navigating of transition.
ENDURANCE INGREDIENTS:
Tulsi
,
Moringa
,
Bele Spinach
,
Ginger
,
Cinnamon
,
Allspice
,
Gotu Kola
,
Turmeric
,
Cacao
, and
Ashwagandha
GENERAL USE AND APPLICATIONS:
Alkalizes the body
Combats chronic fatigue
Elevates one's mood
Increases Stamina
Enhances Libido
Acts as a glandular adaptogen
Boosts metabolism
Creates a calm-energy
Aids in Fertility
Promotes hormone balance
Serves as a caffeine substitute
Supports the adrenals, kidneys, lungs, liver and heart
Improves brain and nervous system function
Cleanses pituitary, thyroid, and pineal glands
Reduces cold and fevers
Combats anxiety and Depression
Other Kauai Farmacy products that contain Ashwagandha
---
Also in Kauai Farmacy Blog