We'll See You on Kauai!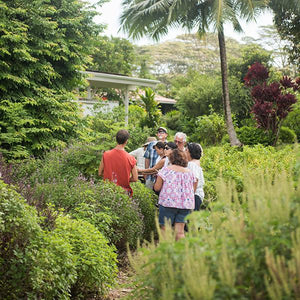 Monday through Friday from 10am - 3pm our Tea Lanai is open to all Every weekday we open the gates to the farm and welcome visitors from all over the world to visit us, enjoy pots of tea, sample and buy our Kauai-grown, seed-to-table, herbal products. We love to talk story, share herbal knowledge and exchange plant healing experiences with our guests.
Those seeking a more intimate and in-depth visit will find all that and more on our guided Wednesday and Friday tour from 10-noon. We open our gardens and lead you on a two hour journey of taste, smell and spiritual plant vibrancy.
Quartz Crystals brought by the Energy Muse retreat energizing our farm table at the Tea Lanai.
Kauai's warm beaches, astounding scenery, and healing vibrations make this island a natural choice to host a retreat. A private farm tour, with or without lunch makes for a relaxed yet energizing afternoon activity for retreating guests.
Doug leads Laird Hamilton and the XPT Experience retreat through the Kauai Farmacy Gardens.

Lead by husband and wife power team Laird Hamilton (living surf legend) and Gabrielle Reece (TV host and world-renown professional athlete), the XPT Experience is an immersive, lifestyle fitness retreat. Each Kauai retreat includes an afternoon with a private tour of our gardens. Whether visiting our Tea Lanai, experiencing a guided tour or scheduling a personal private tour or group retreat, we can't wait to meet you! Mahalo nui loa for your support.