An Inside Glimpse Into Kauai Farmacy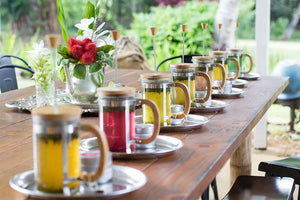 PHOTO BY KAUAI FARMACY
For most people who live in the city and get their food from grocery stores, a trip to the farm can be a therapeutic experience. Eating your food fresh off the vine does more than nourish the body, it nourishes the spirit as well. That's the philosophy behind the Kauai Farmacy. This 4-acre farm on the garden island of Kauai grows medicinal herbs and spices, so that visitors can enjoy teas brewed with the curative properties of the earth. On the
crystallized retreat
we hosted in Kauai last August, we took our guests to the Kauai Farmacy. How better to connect with the restorative energy of the environment, than to immerse yourself within it as you consume its natural tonics. Just the beauty of the landscape alone, with over 70 varieties of medicinal plants, was enough to take our breath away, but it was the story of how this farm came to be that left us truly in awe. To find out more about the inspiring mission behind the Kauai Farmacy, we reached out the creators for a Q&A!
Tell us a little about yourself!
We are a husband and wife team, Doug and Genna. We grew up in the suburbs of Boston and NYC, and spent our twenties as a financier and designer, respectively. Our highly-driven NYC career paths were clear for a moment; but after some invaluable insights from traveling abroad, we decided in our early 30's to veer off, questioning everything that we thought we knew. We now have 3 young children and live on a 4-acre herbal medicinal tea farm in Hawaii, on the Garden Island of Kauai. We spend every day growing and learning from the land, the plants and the passionate people that have been attracted to this pursuit. It has been a completely life-transforming experience – healing, inspiring, humbling, grounding, loving, and so much more.
From left to right: Doug with Oregano, Kerr planting Spinach, Genna in the Garden
What brought you to Kauai?
In November of 2007, we gave birth to our first child. It was a boy. The experience of childbirth is certainly life-changing, however during the period leading up to the birth, during the birth and the aftermath, we abruptly learned how different our thought patterns and intentions were from the culture around us. Yes, we were idealists. And the institutional business of birth was impossible for us to accept. So, after experiencing a drama-filled first childbirth, we took our 4-month old boy and split for Hawaii and landed on the Garden Island of Kauai. We were looking for a new way, freer thinkers, and more wild nature. We didn't really know it at the time, but the three of us had a lot of healing to do; and the healing jungles of the Hawaiian Islands proved to be the ultimate setting.
What is Kauai Farmacy? What inspired you to start it?
Kauai Farmacy
is an herbal medicinal tea farm with over 70 varieties of herbs and spices, located on the tropical island of Kauai; where we lovingly grow, craft and package, from seed to cup, nature's plant medicine, including teas, superfoods, salves, tinctures and more. We started Kauai Farmacy 6+ years ago. Kauai Farmacy was inspired by our personal healing journeys.
Noni Leaf
,
Tulsi (Holy Basil)
,
Sage, Mint
&
Lemon Balm
were some of the first herbs we used to craft our initial tea blends. We began making gallon batches and drinking it throughout the day. It was delicious! Our entire system began to change from the inside out. My (Doug) waist and center literally came alive after years of dormancy; and my neck began to trim out and loosen up as I lost an initial 20 pounds in 6 months. Genna began to lose her excess baby weight as well and truly heal both physically and emotionally. And most importantly, we began playing like children with our then 3-year old boy. And we couldn't help but dream of ways in which we could bring this new-found health and wellness to our community.
Walk us through your farm. What makes your garden different than others?
We listen to our plants. We sing to our plants. We touch our plants. We love our plants. We grow our herbs in mineral-rich volcanic Kauai soil. We feed our plants 100% organic matter in almost an entirely Kauai-grown, close-loop, permaculture system. We create super diverse garden settings comprised of diverse vitamins and minerals that boost our garden's immune system. This is in steep contrast to how most commercially-grown herbs and spices are seeded; typically, mono-cropped in rows and rows of a single plant (i.e. global trade of turmeric or cinnamon) for thousands of acres; stripping the same vitamins and minerals out of the soil; essentially robbing the environment of its natural immune system; and in most cases, inevitably requiring the toxic spraying of chemical pesticides and fertilizers to protect the weak monocultured soil. Crafting true herbal medicine requires a clear intention of healing from seed to cup. Our intention is to bring back the lost art of plant medicine.
Can you tell us about a few of the herbs and plants that are on your farm?
Ashwagandha
(aka, Indian Ginseng) is in the ground for up to a year before it is mature enough to harvest its potent medicinal root. Ashwagandha is renown for rejuvenating the body, boosting libido, increasing stamina, lowering stress levels, and promoting calm-energy. This super herb is found in our Endurance Superfood, Love Potion Tea, and Ashwagandha Tincture.
Chaste or Vitex Agnus-Castus
creates beautiful, lavender, conical flower clusters that later become potent medicinal berries. The plant is renown in Ayurveda for women's vitality, more specifically balancing woman's hormones; as it balances progesterone levels, while decreasing estrogen levels in the body. The Chaste berry is an active ingredient in our Women's Wellness Tea.
Lilikoi
, also known as Passion Flower is an exotic, ethereal, mandala-shaped flower. These flowers are harvested on the full moon, capturing the full essence of this herbal sedative, renown for its ability to calm the nervous system, perform as a muscle-relaxer, aid in restorative sleep, relieve anxiety and pain. Passion Flower is in our Tranquility Tea and our potent Lilikoi Tincture.
What are your favorite herbs? Ones you think everyone needs to get into!
We honestly love them all and believe the ultimate power of plant medicine is found in the diversity of the plants. I would say
Tulsi
(Holy Basil)
,
Turmeric
,
Noni
and
Comfrey
. Exquisite in taste with a unique ability to promote self-awareness,
Tulsi
is an esteemed herb in India known as the Elixir of Life.
Turmeric
is a potent digestive cleanser and helps reduce inflammation as it boosts the immune system. Noni leaf is the Polynesian super herb that promotes circulation, detoxification and weight loss.
Comfrey
, aka knit-bone, is the miracle plant known to heal bones, ligaments, tendons and muscles.
Tell us about your teas, salves, and tinctures. What does the process look like?
We intuitively believe healing should be easy and fun to use, taste great and feel even better. As a result, we have created nourishing
teas
, exquisite
spices
, rejuvenating
salves
, and potent
tinctures
that conveniently integrate into one's daily lifestyle. The key to realizing sustainable results from our herbal products is consistency of use over time. It's certainly a lifestyle! Our process is all about transparency and intention at every step. Our tea kitchen, where all our products are made, is steps from our biodynamic gardens. Our teas, superfoods, and salves are extraordinarily fresh; brought to market within days of being hand-harvested from the gardens. We procure the original raw intention of each plant through solar-dehydrating our herbs and spices at extremely low heat. Our team of gardeners and herbalists are simply meticulous, methodical, passionate and artisanal at every step in their craft.
How can people experience Kauai Farmacy both on the island of Kauai and from their homes?
All our products, information on the herbs we grow, and up-to-date blogs can be found on our website at
www.kauaifarmacy.com
. This is also where one can subscribe to our newsletter for more intimate information on herbs, healing practices, new products and special offer codes when the gardens are in full abundance. We provide next day shipping all over the world. Our Tea Lanai Farm Store, situated in the in the heart of the lush, tropical gardens, is open 10am to 3pm weekdays for tasting, sampling and purchasing products. Kauai Farmacy Garden Tours offer an opportunity to experience the seed-to-cup operation, walk the permaculture gardens, taste the plants, meet the herbalists and gardeners, and learn all about plant medicine. Wednesdays and Fridays 10am-12pm (Reservations online). You can also follow us on our
Youtube channel
;
Instagram
; and
Facebook
.
Can you share a recipe with us?
Today, we're sharing a simple yet exquisite salad dressing with over a dozen alkalizing herbs and spices, in less than 2 minutes:
Combine the following ingredients and toss evenly into salad ingredients! Enjoy! (single serving)

2 pinches of our Curry Superfood Spice Blend (Curry Leaf, Ginger, Turmeric, Kaffir Lime, Hawaiian Chili Pepper)
1 pinch of our Savory Spice Blend (Moringa, Spinach, Tulsi, Oregano, Rosemary, Gotu Kola, Sage, Thyme)
1 lime fresh-squeezed
1-tsp Cold-pressed oil of choice
a dash of Hawaiian sea salt (or to taste)
Is there anything else you want to share with our audience?
The holistic vitamins and minerals are unique to the mana (spirit) of our gardens, gardeners, herbalists and The Garden Island of Kauai. These herbs and spices contain information that provides us with the ultimate in self-healing – the true power of self-awareness. It is self-awareness that allows us to tap into and trust our all-powerful intuitive selves.