Tasting Table: Hawaii Chili Pepper Water Will Rock Your World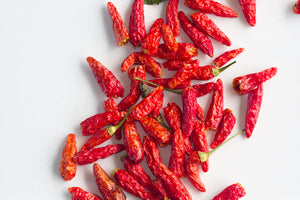 Meet your new go–to condiment for absolutely everything
By TT Content Studio
3/6/17
Hawaii is known for many things: beaches, waterfalls, shave ice and, yes, SPAM. But one integral part of daily life on the Islands has been flying under the radar: Hawaii chili pepper water, the state's beloved hot sauce. It's time to put the Sriracha down and get to know your new favorite condiment—one that's worth a plane ticket around the world and one that's worth breaking your no–checked–baggage rule for, just to bring home a big bottle.
Hawaii chili pepper water is made with red chili peppers, white vinegar, garlic and boiling water. You could add ginger or any other seasoning, but these four ingredients make up the classic base. Mix everything together in a jar, cover and let cool anywhere from overnight to a couple days. Then store in the refrigerator to enjoy at will. And that really means at will: Fans of the hot sauce use it on morning eggs, noodle soups, sandwiches and BBQ. If you think your lunch could withstand a little kick, douse it on.
The hot, red chili peppers grow easily in Hawaii, especially on Kauai, whose extremely wet climate has earned it the moniker the Garden Island. At Kauai Farmacy, an idyllic farm on the north side of the island that grows herbs for teas, spice blends and an array of health products, the chili peppers, also called nioi in Hawaiian, are abundant. They're used for an epic curry blend or simply ground to a powder that can be sprinkled into soups or over vegetables for flavor and varied health benefits, like increased circulation, better digestion and reduced heart risks.
Hawaii chili pepper water is a staple in mom–and–pop restaurants and in local Hawaii households alike. Even upscale restaurants, like Roy Yamaguchi's Eating House 1849 on Kauai, use the stuff to spice up sashimi. Though it's not difficult to make, certain places take pride in the secret touch their customers have learned to crave. Sean Garcia, owner of Kauai's popular breakfast spot, Java Kai, loves the chili pepper water at Waipouli Deli & Restaurant, a favorite diner down the street. Still, others are loyal to their family's brand—likely a closely guarded recipe.
Whether you're buying the condiment at the store, using a restaurant's version or making your very own, once you get used to the lingering heat, you won't be able to stop. Don't be surprised if you leave Hawaii with a few bottles in your bag or if you plan a return trip as soon as you notice your supply looking a little low.