Kaua'i Traveler: The Golden Spice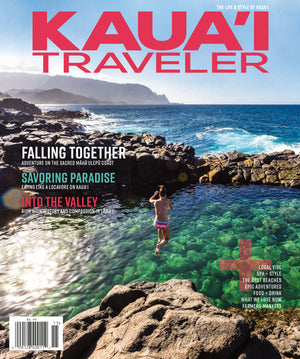 The Golden Spice
Turmeric is good for your mind, body and soul
Kauai Traveler Magazine Spring 2017
By Mary Troy Johnston Photos by Kauai Farmacy / Kauai Farmacy
The medicinal benefits of turmeric have been known throughout the centuries, first recognized by non-Western cultures in South Asia, China and the Middle East. Turmeric is central to the five-thousand-year-old tradition of holistic Ayurvedic medicine, originating in Northern India and still widely practiced today.
No one on Kaua'i knows better the history of turmeric in India than Vaidehi Herbert. She has lived here for 15 years where she pursues her passion of translating the ancient poetry of the Tamil region of Southern India, having produced numerous books. Vaidehi described to me how the Tamil poets wrote about turmeric over 2,000 years ago, between 3rd century BCE and 3rd century CE, when they developed the extensive literature known as Sangam poetry. She perused the poems to find references to turmeric. She finds that "fragrant turmeric was hung around the memorial stones as a decoration" to commemorate fallen warriors and also used in religious rituals. Vaidehi finds a charming reference to a scene where "women playing in a river used turmeric to wash their skins." Another poem tells us that people in the mountains grow turmeric, ginger and black pepper. Modern science has come to recognize that black pepper ingested with turmeric enhances the absorption of the latter whereas ancient Tamils seemed to have known this intuitively! Piperine is the compound found in black pepper that aids in the absorption of curcumin, the active compound found in turmeric.
Where turmeric is concerned, the ancient Tamil past has met with the Kaua'i present. Our island provides fertile ground and a tropical climate for growing olena (turmeric). A member of the ginger family, turmeric is a rhizome, meaning it grows as a stem underground. When it is harvested, it shares the rough tubular appearance of edible ginger, except that it has its own distinct golden color, reminiscent of saffron, and the curvature of a shrimp (also noted by a Tamil poet). Turmeric infuses food with the same strong reddish-yellow hue and, for this reason, is sometimes used as a substitute for the more expensive saffron. As for its culinary use, the spice is best known as one of the basic ingredients of a curry (from kari in Tamil), when paired with other herbs and spices from India.
On island, makers of teas, juices, hot sauces and curry powders have renewed interest in developing products utilizing turmeric to promote physical and emotional well-being. Doug Wolkon of Kauai Farmacy, a firm believer in turmeric's role in overall health, has developed a variety of related products on his tea farm. The Farmacy offers a Curry Blend that combines the health benefits of turmeric, kaffir lime and curry leaves, galangal and yellow ginger, and our island chili peppers known for their heat. He recommends his favorite, Cacao Olena powder constituted from the basic ingredients of cacao, turmeric and ginger to be used to make a hot tea or golden milk latte. Doug, in his blog post for Natural News, states that the "raw juice" (cold-pressed from the root) "is the most potent medicine for the liver and other organs as well as easy to apply externally." Ancient medical traditions have long recommended applying turmeric to wounds, bruises, and skin irritations. Seeing turmeric as so integral to health maintenance, Doug writes, "We use turmeric as a daily tonic to keep the body, mind and spirit healthy and feeling alive." These products are available at the Kïlauea Farmers Market on Saturday or directly from the tea farm, which also offers informative tours of the tropical plants grown there and their medical uses. Visit www.kauaifarmacy.com to learn about their farm and products.
There is no end to the beliefs about healing turmeric attributing anti-inflammatory, anti-depressant, and antioxidant properties (at the very least) to the "golden spice." Consequently, there is no end to turmeric-derived products on Kaua'i. Turmeric shots are available across the island from juice bars, as well as smoothies and other varieties. Janine Lynne has developed a Citrus Curry hot sauce for her Black Dog Farms Kauai that she mixes with yoghurt for a dip and adds to safflower oil (¼ cup hot sauce to ½ cup oil) as the base for vinaigrette. Kaua'i also boasts a number of island-crafted soaps infused with turmeric, harking back to the Tamil women using the spice as they bathed in the river. As Indian women are said to use turmeric in their cooking every day, it seems this exotic lesson has reached our small island in the Pacific.
Home cooks will appreciate this recipe provided by Vaidehi Herbert, who also taught Indian cooking classes from her home here for 10 years to raise funds to support schools and tsunami victims in her birthplace of rural Tamil Nadu state of India.
Onion Tomato Chutney Recipe
Onion - 1 big red onion (finely diced)

Tomatoes - 2 big (finely chopped)

Olive oil - 8 Tablespoons

Turmeric (powder) - 1/2 Teaspoon

Cilantro - 2 Tablespoons (chopped)

Salt - 1 Teaspoon, or to taste

Cumin seeds - 1/2 Teaspoon

Cumin powder - 1/2 Teaspoon

Chili powder - 1 Teaspoon

Curry Leaves - 10 leaves
Heat oil in a pan. When oil is hot, add the cumin seeds and turmeric. Sauté for 10 seconds. Add the curry leaves and chopped onion. Sauté for about 10 minutes on medium heat, covering the pan with a lid between stirring the onion. Add the chopped tomatoes and salt. Sauté for another 10 minutes. Add the cumin, chili pepper and chopped cilantro. Sauté for a few minutes.
The chutney can be served with tortillas, steamed rice and toasted bread.