Local Herbal Tea Farm Kaua'i Farmacy Will Spice Up Your Beauty Routine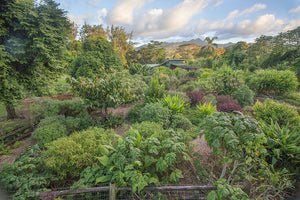 BY NICOLE OKA
We love supporting small businesses that emphasize organic, locally grown products. So when Kaua'i Farmacy sent us some of its all-natural, Kaua'i-made skincare items to try, we couldn't resist. Located in Kīlauea, the tea farm is the love child of East Coast transplants Doug and Genna Wolkon, who bought 4 lush acres back in 2010, intent on creating healing herbal products. Now, along with teas, spices and tinctures, the Wolkons are brewing up botanical beauty products made using organic plants and herbs.
PHOTO: DAVID CROXFORD
So far, their foray into skincare has yielded two products—the
Comfrey Salve
and the Botanical Body Butter. Made with organic coconut oil, local beeswax and comfrey grown on their farm, the Comfrey Salve soothes even the tensest of sore muscles. After using it for a week on my aching shoulders, I can attest that it nicely relieved tension. Supercharged with organic coconut oil, local beeswax,
cacao
,
turmeric
,
noni
,
tea tree
and
gotu kola
, the Body Butter is packed with all-natural goodness. After washing my face, patting dry and applying, this cocoa-scented butter restored moisture to my skin and left it feeling smooth and fresh. Kaua'i Farmacy's lineup of beauty products is seasonal and changes depending on the availability of ingredients. We're looking forward to the springtime
Healing Beauty Balm
, a
calendula
-based formula beloved for its honey scent and soothing properties.
Botanical Body Butter, $24, Comfrey Salve, $24. kauaifarmacy.com.