Allspice Honey Banana Nut Cereal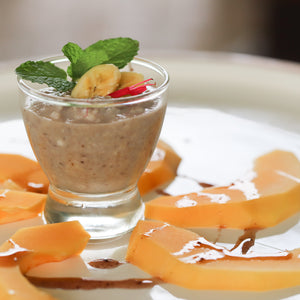 INGREDIENTS: Apple-bananas (not apples – these are the sweet small tropical bananas that are called apple bananas, but regular bananas will do just fine), cashews, macadamia nuts, pecans, coconut milk, papaya, mint, pineapple sage blossoms and Kauai Farmacy Allspice Honey (all organic).
SERVINGS: One
KITCHEN TOOLS: Sharp knife, food processor, high speed blender, cutting board.
RECIPE:
Add 1 cup total of mixed, unsalted, nuts, one pinch of Kauai Farmacy Endurance Powder and one tablespoon of Allspice Honey to food processor
Run food processor until the consistency resembles wet sand
Dice bananas
Combine all ingredients into bowl or cup
Separately, blend coconut meat and coconut water together in high-speed blender to make coconut milk
Pour coconut milk over banana-nut-cereal and mix together
Place bowl on larger plate; remove seeds and skin from papaya
slice and plate papaya
Lightly drizzle Allspice Honey on top of cereal and fresh papaya
Garnish with sliced banana and mint
Enjoy!
KAUAI FARMACY HERBS IN THIS RECIPE: Allspice Honey – Allspice, Honey. Endurance Powder – Tulsi, Moringa, Bele Spinach, Yellow Ginger, Galangal, Allspice, Cinnamon, Turmeric, Cacao, Ashwagandha, Gotu Kola.