Coconut Heart of Palm Soup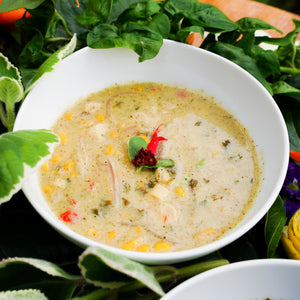 2 medium onions
4 celery stalks diced
1 red bell pepper diced
1 bunch cilantro chopped
4 cans coconut milk (fresh if you have it)
3 cans Heart of Palm (fresh if you have it)
3 cups corn off the cob
4 tbsp Botanical Broth Blend
3 tbsp coconut oil
Salt to taste
In a medium sauté pan or stockpot; sauté 1 onion rough chopped and celery in coconut oil, and cook until tender. Add two cans Heart of Palm, coconut milk, and Botanical Broth Blend. Bring to a low boil, then reduce heat to low and cook for 15 minutes or until some broth has evaporated.
While that is cooking, combine remaining julienne red onion and bell pepper in a
sauté pan, and cook until tender. Chop the remaining can of Heart of Palm and add it to the onion and pepper. Salt and pepper to taste. Set aside once onions and peppers are cooked.
With immersion wand blender, blend the coconut botanical broth mix until smooth. If you do not have an immersion wand blender, add broth to a Vitamin and blend until smooth. Add sautéed onion, mix in cilantro, stir well, and salt and  pepper to taste. Enjoy!
Makes about 1 gallon.