Papaya Smoothie Bowl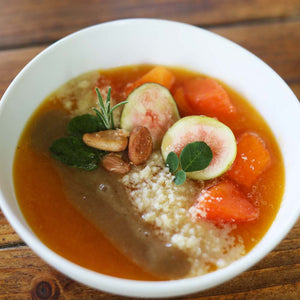 Papaya Smoothie Bowl - serves 2

Ingredients:

Base:
- 1 large or 2 medium frozen papayas
- 2 cups water
- 1 Tbs Noni Honey (optional)
- Pinch of sea salt

Garnish:
- cacao nibs
- fresh mint
- ground macadamia nuts
- Rosemary sprig
- moringa  leaves

Banana Sauce:
- 4 frozen bananas
- 1 tsp noni honey
- sprinkle of sea salt

Process:
1. Create banana sauce by blending bananas with water, honey, and sea salt. Set aside in small pitcher in your refrigerator.
2. Prep desired toppings and garnishes. Set aside on a plate or in bowls.
3. Create the smoothie bowl base by blending fresh frozen papaya with water, honey and sea salt. Set aside in freezer if necessary while setting your table/bar.
4. Get creative and enjoy! Serve in bowls or setting up a smoothie bar/buffet works great too.