ALOHA Pasta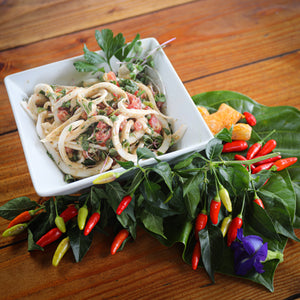 1 cup thin sliced young coconut meat
1/4 cup fresh cilantro chopped
1/4 cup fresh marjoram chopped
1/4 cup fresh red radish sprouts
Tablespoon cashew or macnut butter. 
1.5 cup diced tomatoes
1-2 raw crushed garlic cloves
2-3 pinches curry blend
Ni'oi flakes (desired amount for heat 1-2 pinches) *pro tip: use a spoon
1 teaspoon red Hawaiian sea salt)
Drizzle of olive oil
1 pinch Annatto seed powder (for color)
2 tablespoons of chopped green onion
Massage together with hands. Make sure macnut butter is thoroughly coating  pasta - enjoy!