Cacao-Coconut-Chai Energy Balls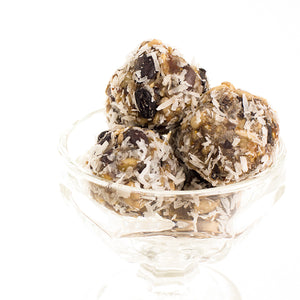 Satiate your sweet tooth without compromising your health regimen. Great to eat before and after workouts or when your cravings kick in for that special "sweet" something. By incorporating Kauai-grown herbs; like Cacao, Turmeric, Yellow Ginger, Tulsi, Galangal Ginger, Cinnamon, Allspice, Lemongrass, Ashwagandha and Gotu kola, you are giving your body the energy it needs to perform at its best, while alkalizing and ridding the body of toxins, inflammation, and free radicals that may lead to illness and injury. These are sweet treats; or better said..."treat"ments that will invigorate and re-energize your circulatory, digestive, immune, respiratory, endocrine and nervous system throughout the day when it is much needed. Lucky us - Medicine made delish!
Reicpe:
1/4 cup Sprouted sunflower seeds (can sub with other seeds/nuts of choice)
1/4 cup Raw Macadamia Nuts (can sub with other seeds/nuts of choice)
1/2 cup Unsweetened, shredded coconut (set aside 1/4 cup for coating)
2-3 tablespoons Local, raw, organic honey
12 pitted dates (can substitute figs, or other dehydrated fruit of choice)
1 tablespoon Cacao Olena Powder
1 tablespoon Endurance Powder
1 teaspoon Organic Cinnamon (optional-for coating energy balls if desired)
2 ripe bananas (preferable apple-bananas for sweetness)
Combine all ingredients in a food processor until sticky and coarse in texture (do not blend smooth)
Coat hands with raw, organic coconut oil
Roll mixture into truffle-size balls (about a teaspoon each)
In separate bowl, pour additional shredded coconut flakes.
Roll balls in the shredded coconut flake bowl until balls are lightly coated.
Plate and Enjoy!
Refrigerate leftovers or additional batch for later weekly enjoyment – lasts up to 1 week.