Eggfruit "Cheesecake"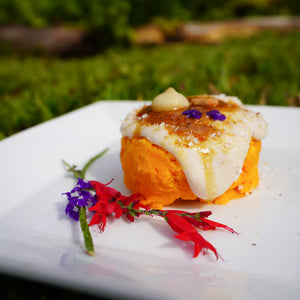 Eggfruit "Cheesecake" with Cacao Ginger Turmeric Honey

(this recipe is raw)

8 large ripe eggfruit (no skin / no seeds)

- Mash egg fruit until smooth and creamy then mold into desired shape on serving plate by hand (triangle, round, heart, diamond).

FROSTING:

- Blend the meat of 2-3 coconuts with 10 dates (no seeds) and 1/4 cup macadamia nuts. Add coconut water to get the desired consistency.

- Spoon frosting on top of the eggfruit cake.

- Spoon large dollop of Cacao Ginger Turmeric Honey on top

- Sprinkle with coconut flakes.

- Top with cacao nibs and Mac nut garnish.

- Add edible flowers if you like (we used Kauai vervain and pineapple sage blossoms).

- Serve immediately and enjoy!