Genna's Ulu bagels with macnut scallion cream cheese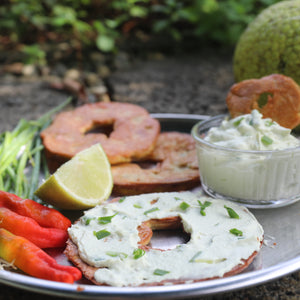 Genna's Ulu bagels with macnut scallion cream cheese

Recipe:

Skin and core ulus.
Chop and put into vitamix. Add sage, rosemary, tablespoon-ish of coconut oil and hawaiian alae sea salt. Blend together (starting on low setting and dialing up as you go). Coat baking trays with coconut oil. Spoon and shape batter on trays into bagel shapes and spread evenly into a thin "flatbread" thickness. Oven bake at 320 degrees until firm to touch. Flip ulu bagels and replace in oven to firm other side.

Separately, put 1 1/2 cups of macadamia nuts into vitamix; add 3/4 fl oz spring water, add any small pepper (not spicy and without seeds), 3-ish pinches of Hawaiian alae sea salt and the juice of half a lime. Blend together until creamy. Fine chop a tablespoon or more of green onion (chives or scallions) and mix this into the creamy mixture by hand with a spoon.

Ulu bagels 🥯 are ready when golden brown and are best served fresh out of the oven. Spread macnut scallion cream cheese on ulu bagels and enjoy!