Raw, Vegan, herbal GUACAMOLE recipe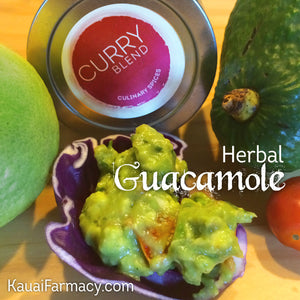 RAW, VEGAN, herbal GUACAMOLE recipe
From the Kauai Farmacy kitchen:
1 tablespoon Kauai Farmacy Curry Blend (Curry Leaf, Yellow Ginger, Galangal Ginger, Turmeric, Kaffir Lime, Hawai'ian Chili Pepper) - Sprinkle more or less for desired heat/flavor
5 ripe creamy Avocados - mash
1 large shallot - mince
1/2 lime (squeeze)
1/4 cup tomatoes-any variety (chopped)
4 sprigs fresh cilantro (fine chopped)
4 sprigs fresh parsley (fine chopped)
Coarse sea salt (to taste)
2 tablespoons cold-pressed olive oil (Drizzle)
Optional: 1/4 teaspoon Kauai Farmacy Savory Blend (Bele Spinach, Tulsi, Moringa, Oregano, Garden Sage, Pineapple Sage, Thyme, Rosemary, Parsley, Tarragon, Katuk) 
1 head of red leaf cabbage (cut in palm size petals)
* Organic, fresh, raw, local produce when possible
Mix ingredients in medium size bowl.
Spoon Guacamole onto red leaf cabbage and serve or
Serve in dipping bowl with carrot sticks, cucumber sticks (sliced long-ways), julienne peppers, and sugar snap peas.
* Makes enough servings for 5 people to enjoy!
"This is a favorite home-made recipe in our house. It is a sure way to incorporate a bounty of healthful herbs into a delicious meal with little effort."—Genna & Doug
These herbs support healthy circulation, aid in digestion, support mental-clarity & cognitive function, have anti-fungal, anti-bacterial, anti-septic qualities, while providing us essential and diverse vitamins and minerals for well-being.