Tomato Kumquat Avocado Salad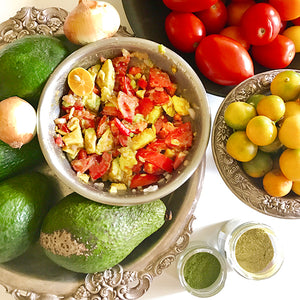 INGREDIENTS:
*all organic
SERVINGS: One
KITCHEN TOOLS: Sharp knife and cutting board.
RECIPE: Using Kauai Farmacy Superfood Culinary Spices: Chop one large avocado, three medium-sized tomatoes, fine chop one small sweet onion and one Hawai'ian chili pepper; place in serving bowl; squeeze the juice from two kumquats or one lime, add dash of Hawai'ian sea salt, one pinch of Kauai Farmacy Savory Spice and two pinches of Kauai Farmacy Curry spice, toss thoroughly and Enjoy! Garnish with half of a Kumquat.
KAUAI FARMACY HERBS IN THIS RECIPE: Savory – Bele Spinach, Moringa, Tulsi, Rosemary, Oregano, Thyme, Sage, Gotu Kola, Pineapple Sage, Tarragon; Curry – Curry Leaf, Turmeric, Galangal Ginger, Yellow Ginger, Kaffir Lime, Hawai'ian Chili. This simple, easy-to-prepare organic salad promotes healthy circulatory, liver, kidney, brain, respiratory and immune system functions. It is also an exceptional blend of alkalizing herbs and fruits for hair and skin conditioning. Eating for health and beauty!