Ulu Drumsticks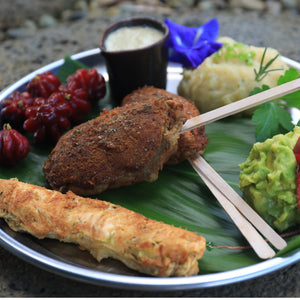 Makes: 16-20 medium size ulu drumsticks
 

Ingredients:

3 tender to the touch ulu (breadfruit)
1/4 cup Pecans
1/4 cup macadamia nuts
3 green plantain
Handful fresh Rosemary
7 fresh Sage leaves
3 fresh bay leaves
Small thumb of Turmeric
Medium finger of Ginger
1/4 teaspoon Allspice
1/4 teaspoon Cinnamon
Teaspoon Annato seed
2 tablespoons Honey
Bundle of fresh Thyme sprigs
Chili pepper (to your desired heat)
1/4 teaspoon Curry powder 
1/4 Teaspoon Salt
Black pepper (season to taste)
Small handful fresh marjoram  
Small bundle fresh Parsley
Spritz of Lemon
3 bulbs and shoots of Green onion
1 clove garlic
1 teaspoon of Coconut oil
Directions:

Skin and core ulu (breadfruit)
Add all ingredients into vitamix and blend.
Preheat oven 350 degrees.
With large spoon scoop batter and mound into 3-inch oval mounds. Place wood sticks into batter mound at a horizontal angle part way.  Dust with curry powder, salt and fresh thyme.
Bake until firm. Glaze with Annato seed honey and Ginger honey. Back in oven until golden. Flip and glaze other side. Back in oven until golden.
Extra:*
Veggie gravy: steam cassava or potatoes, onion, and carrots. Blend veggies together in vitamix adding fresh rosemary, thyme, sage, margarine, parsley, and salt along with the steam-broth to get your desired gravy consistency.