Ulu Veggie Cassarole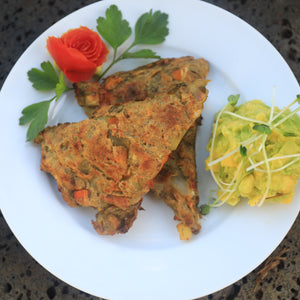 Ingredients

1 Large ripe ulu: core, skin, use only 1/2 ulu, or 1 small ulu

2 red skin potatoes 

1/2 large white onion finely chopped

2 tomatoes: skin, dice, and squeeze out liquid as best as can by hand over strainer

small bundle fresh chopped parsley

3 large carrots finely chopped

1 green onion stalk finely chopped

2/3 teaspoon Hawaiian sea salt

1 heaping teaspoon Moringa powder

1 and 1/2 teaspoon Savory powder (Bele spinach, Tulsi, Moringa, Pineapple, Sage, Oregano, Thyme, Rosemary, Tarragon, Parsley, Katuk)

2 teaspoons coconut oil

Directions:

1. Blend Ulu separately
2. Pre heat oven to 335
3. Mix veggies and remaining ingredients in large mixing bowl with spoon with ulu batter
4. Lightly coat baking sheet or glass pyrex
5. Pour mix into pan & bake for 50 minutes
6. Flip and bake for another 30 minutes until golden brown, and solidly formed inside.
7. Garnish with guac, radish sprouts, tomato flower, and fresh parsley sprigs.