A simple SALAD DRESSING packed with HERBAL nutrition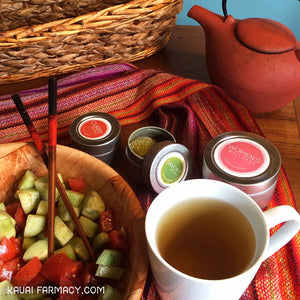 This is how we make SALAD In OUR HOME:
Chop 1 large cucumber, dice 3-4 fresh tomatoes, sprinkle equal parts
Savory Blend
and
Curry Blend
(2-pinches of each), fresh-squeeze the juice of 1 lime, drizzle cold-press olive oil (or sesame oil), and add a dash of coarse pink sea salt. Pair it with your favorite tea and Voila! An enzyme, vitamin & mineral-rich meal.
salad dressing ingredients:
Savory Blend

: (

Bele Spinach

, 

Tulsi

, 

Moringa

, 

Oregano, Garden Sage

, 

Pineapple Sage

, 

Thyme

, 

Rosemary

, 

Parsley

, 

Tarragon

, 

Katuk)

 

Lime juice
Cold-press oil (Olive or Sesame)
Coarse sea salt
featured tea:
Women's Wellness Tea: Tulsi, Bele-spinach, Lemongrass, Cranberry hibiscus, Moringa, Turmeric, Chaste Leaf and Berry, Ginger, Galangal Ginger, Yarrow, Orange Peel.
 Simply nutritious and easy to make. Enjoy!