Avocado Ceviche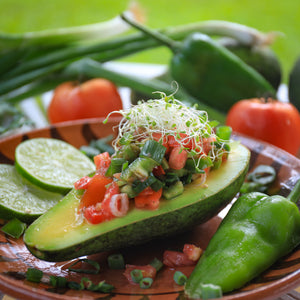 Slice avocado in half (long-ways), remove seed.

Dice tomato and green onion

Chop fresh cilantro

Combine together in a separate bowl.

Squeeze in lime juice

Add Hawai'ian sea salt, 1 pinch Kauai Farmacy Curry powder (or more for additional heat), and optional 1 pinch Kauai Farmacy Savory blend.

Optional: Add minced jalapeño for desired heat.

Scoop salsa mixture over avocado halves.

Garnish with lime wheels

Enjoy!
#herbal #avocado #ceviche #kauaigrown #curry #savory #salsa #foodismedicine #kauaifarmacy #recipe #recipesforlife #lifeforce #healthy #fat #goodfat #healyoself #feelmorealive