Cardamom Coconut Pudding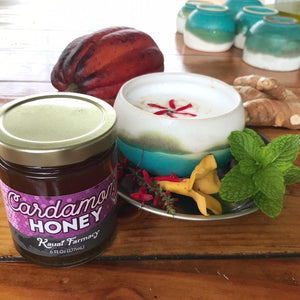 INGREDIENTS: Coconut Meat, Coconut Water, Pineapple Sage blossoms, Mint, Kauai Farmacy Cardamom Honey (all organic).
SERVINGS: One
KITCHEN TOOLS: High speed blender
 RECIPE:
Blend 2:1 parts coconut meat to Coconut water until thick and creamy
Pour into bowl or teacup, generously drizzle Cardamom Honey in a swirl-like motion
Garnish with pineapple sage blossoms or choice of edible flowers and mint
Enjoy!
KAUAI FARMACY HERBS IN THIS RECIPE:
Cardamom Honey
–
Cardamom, Honey.