Cardamom Honey Love Potion Chai Latte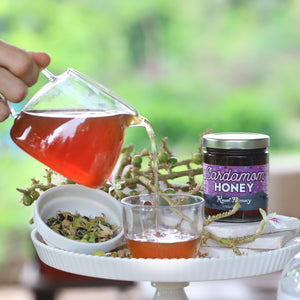 Chai spiced, medicinal and 100% herbal; Love Potion tea pairs perfectly with Cardamom Honey.
For the best Chai Latte ever:
Brew a strong pot of Love Potion tea
Spoon a teaspoon of Cardamom Honey into your cup
Fill 3/4 of your cup with Love Potion
Top with Coconut milk
Stir and enjoy!
Don't be afraid to try with our Allspice, Ginger or Turmeric honeys as well!