Curry Berry Ulu Salad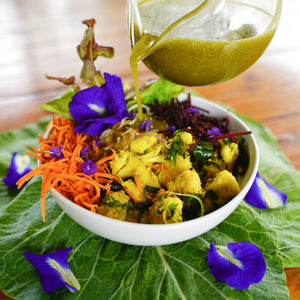 Recipe will serve a family for the week!

Ulu base

Ingredients:
4 medium size unripe Ulu (Breadfruit)
2 bunches cilantro chopped
2 bunches green onion
3 carrots grated
5 Bele Spinach (Edible Hibiscus) leaves chiffonade
2 cups ripe curry berries (pitted)
Directions:
Score and steam Ulu whole. Skin it with knife and core it, then dice into small chunks. Add to large mixing bowl with green onion, cilantro, carrots, hibiscus, and ripe curry berries. Once dressing is made, pour over and mix thoroughly. 

Dressing ingredients:
3 cups Macadamia Nut oil
2 lemons juiced
1 jar of Kauai Farmacy Curry Blend
1 cup chopped green onion
1/4 cup lemongrass chopped
2 tbs salt

Dressing Directions:
Blend all ingredients in blender, pour over remaining Ulu base and mix well. Salt to taste and enjoy!