SWEET, SAVORY AND SPICY ALL IN ONE!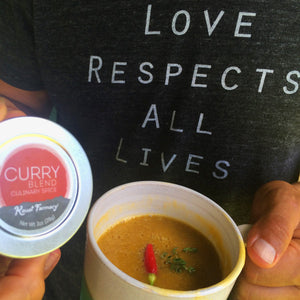 SPICY CURRY PUMPKIN BISQUE: with
Kauai Farmacy Curry Spice Blend
First, remove the pumpkin skin with a veggie peeler.
Next, remove the seeds & soak them in bowl filled with water to separate the seeds from the pulp (This simultaneously plumps up the seeds) - This can later be used to make Spicy Pepitas for a light snack or to garnish your bisque (Recipe below)
Chop pumpkin into cube size chunks & place in slow-cooker until tender.
Place slow-cooked pumpkin cubes into blender & slowly add in water until the soup becomes a creamy consistency.
Add 1 tablespoon fresh ground cinnamon; 1 tablespoon Kauai Farmacy Curry powder (or to taste); 2 table spoons local, raw, organic honey; 5-6 fresh thyme sprigs stripped; 1 fresh Hawaiian chili pepper (remove the seeds before adding); Add Hawai'ian sea salt to taste.
Blend until all ingredients are equally distributed & texture is smooth.
Garnish with fresh Thyme & chili pepper - Alternative option: garnish with home-made Pepitas
Serve hot or chilled
Makes 6 servings
SPICY PEPITAS
Place pumpkin seeds in a bowl of water to separate pulp from seeds.
Soak for 3+ hours (the more you soak them, the more they will plump up)
Strain & place seeds on oven baking pan.
Pre-heat oven to 300 degrees
Drizzle cold-pressed organic olive oil over the seeds
Mix thoroughly until evenly coated
Spread seeds out evenly on pan surface
Bake until golden brown
Dust generously with Kauai Farmacy Curry Powder immediately after removed from oven.
Add Hawai'ian sea salt to taste
Toss to evenly coat
Serve as a light snack
Or use Spicy Pepitas as a garnish in our Spicy Curry Pumpkin Bisque.
Enjoy!