Turmeric Honey Sauteed Vegetables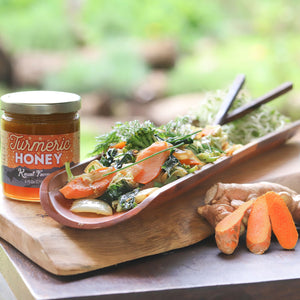 INGREDIENTS: Bele Spinach, Carrots, Cabbage, Onion, Broccoli, String Beans, Garlic, Coarse red Hawaiian Sea Salt, Olive oil, Lime juice and Kauai Farmacy Turmeric Honey and Curry Spice Blend. Side: Sprouted Clover (all organic).
SERVINGS: one
KITCHEN TOOLS: Sharp knife, garlic press, Sauté pan, and cutting board.
RECIPE:
Chop/slice all veggies into bite size pieces
Heat oil in the pan
Crush 3 cloves of garlic through the garlic press and add to the pan wait until garlic is nice and hot, then add small amount of water and stir garlic and water together
Clean spinach thoroughly, remove stems and large leaf veins and add to pan to steam when Bele spinach has reduced to half its size, remove from pan in a holding bowl
Add onions to sauté for a couple of minutes, followed by remaining veggies to steam
Add Bele Spinach back into the pan to combine all ingredients together
Squeeze lime juice into the pan
Season with a pinch of salt and a pinch of Curry
Drizzle Turmeric Honey over the veggies and stir to coat evenly
Plate sautéed vegetables alongside a heaping handful of sprouted clover
Dress the clover with a light drizzle of Turmeric Honey
Garnish with chives, parsley flowers, or edible flowers of your choosing!
KAUAI FARMACY HERBS IN THIS RECIPE: Turmeric Honey – Turmeric, Honey. Curry – Galangal Ginger, Turmeric, Hawaiian Chili Pepper, Yellow Ginger, Kaffir Lime Leaf.